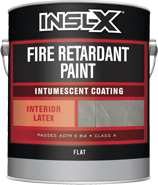 Fire Retardant Paint
FR-110
Fire Retardant Paint expands and forms a thick cellular char blanket, called intumescence, when attacked by flame. This latex paint retards flame spread, minimizes smoke development, and applies like a conventional latex flat paint.
Slows the spread of fire and smoke
Chemical reaction forms intumescence
For commercial & residential use
Low-VOC
Dries to a decorative flat finish
Available Sheens: Flat
Available Colours: White
Cleanup: Soap and water
Resin Type: Vinyl Acrylic
Recommended Use: Interior
MPI Rating: 64
VOC Level: < 50 g/L
Check with your local INSL-X DEALER for product availability.
DOWNLOADS